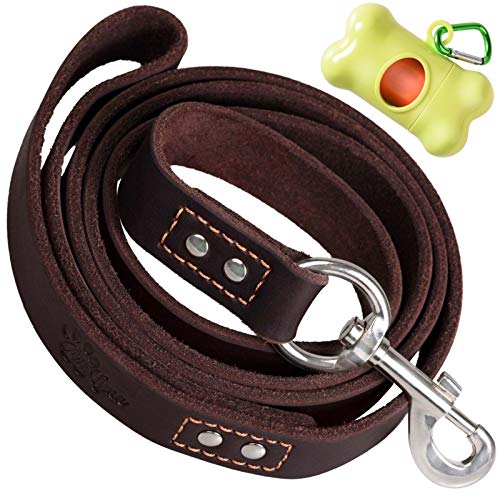 Heavy Duty Leather Dog Leash 6 Foot x 1" - Soft and Strong Dog Leash for Large Dogs and Extra Large Dogs (XL - 6 ft x 1 inch, Brown)
$34.97
Brand: ADITYNAColor: BrownFeatures: Superior leather dog leash made to last for years; the Adityna leather leash is made of a single piece of premium grade genuine leather; this makes it...
Brand: ADITYNA
Color: Brown
Features:
Superior leather dog leash made to last for years; the Adityna leather leash is made of a single piece of premium grade genuine leather; this makes it a resistant leash which allows you to have controlled walks; this 6-foot x 1 inch dog leash has the perfect length for walks and training
Perfect leather leash for large and extra large dogs such as german shepherd, great dane, caucasian shepherd, bernese mountain dog, saint bernard and others; durable stitches with 2 rivets and 360º heavy duty stainless steel clasp were used to make the training dog leash stronger; you will feel safe using it
Soft and strong at the same time, the adityna 6 foot leather leash can prevent the burning hands feeling when the dog pulls hard; our dog leash leather is easy to double up and hold if you need to keep your dog close; it can be used as a short dog leash as well
Our mission is to keep your dog safe and happy; we take pride in making long lasting premium pet products and in our personalized USA-based customer support
2 years warranty; add your new leather leash to cart and if you aren't 110% satisfied, we will fully refund your purchase or send you a new one; no questions, only love
Details:
Some call it dog training leash, some call it leather dog leash, some even call it dog running leash. Call it however you want because one thing's for certain - Adityna' Dog Leash will keep you and your dog SAFE for a LONG time!
Picture this: You decide to walk your dog one night. He/She is a strong puller and also gets excited when a sound comes on or a squirrel/cat gets in front of you. The next thing you notice is your dog, 20 yards away from you! You're the only one who knows how bad this can go. A strong leather leash would've been fantastic to avoid this mess!
Or maybe you just got tired of painful arms after walking your dog. Scratches on your hand, uncontrolled walks, missed training sessions or even worse - dogs lost because of broken leashes.
A Heavy Duty Dog Leash would make your life easier. Here's why:
2 YEARS WARRANTY: We fully support your buying decision with great quality products and outstanding customer care.
RESISTANT: This is a 6 foot long dog leash and ¾ inch wide. It has been treated and painted to provide real support for you.
STRONG & SOFT at the same time: The leash comes already treated and broken in, ready to be used as a small or large breed dog leash.
MADE TO LAST: The leash is carefully manufactured using a single long leather piece. It is also a little stretchy to avoid cracks over time. The paint is high-quality and does not transfer to your hands or clothes.
CHEWING PREVENTION: You get a FREE small bag to keep the leash in it when you are in the house. We don't want "the chewers" to find the leash, right?!
SAFETY: Your dog will not get away with this leather leash - it keeps you both SAFE!
The Adityna Leather Dog Leash creates the perfect experience for you and your lovely little friend. Buy one now and make your pet happy!
Package Dimensions: 6.5 x 5.5 x 2.2 inches